Gres de Breda have been making tiles at their factory between Barcelona and Valencia in Spain for over forty years. TerraKlinker tiles are used successfully in many different sectors, including housing, the hospitality industry, public landscaping, and more. TerraKlinker tiles stand out for their distinctive texture and premium quality. The tiles are highly valued for their sturdiness, anti-slip quality and resistance to frost and low temperatures. The TerraKlinker range is also unique in its wide range of sizes, five distinct colours and special pieces, all made of natural stoneware.
Slip Rating - R12
R12 according to standard UNE-EN 101
Second highest on the slip-resistance scale, R12 floor tiles are suitable for use in almost all areas - wet or dry.
You will most likely find R12 slip rating tiles around the house in kitchens, bathrooms and hallways; anywhere people might want to opt for a hard wearing, easy to clean, hard to scratch or stain, floor tile.
In a commercial setting the tiles are suitable for public access areas - anywhere where an R13 has not been specified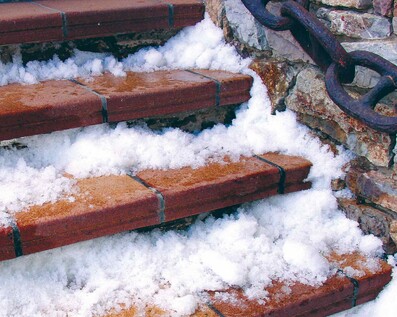 Frost Resistance
Complies with standard UNE-EN ISO 10545-123. If you live in a frost prone part of the country then these are the tiles for you. Queenstown Lakes District Council purchased TerraKlinker tiles to repair the Millennium walkway around Lake Wanaka.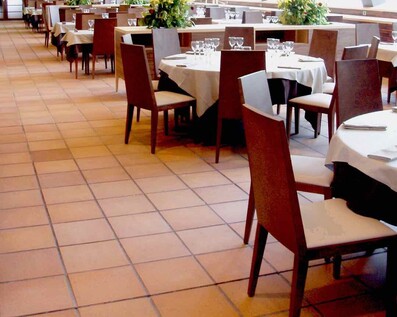 Resistance to Deep Abrasion
<180mm2 according to standard UNI-EN-ISO 10545-6. Stiletto heels, chairs and pretty much anything you can throw at them.
TerraKlinker Tiles require no sealing and are easy to clean
The tiles are heated up to around 1,360 degrees centigrade which removes much of the porosity that clay tiles normally have.
With the tiles having a water absorption rate of <3% the need for sealing is removed both from a staining and frost point of view.
Day to day cleaning can be carried out with a universal detergent with a neutral pH
250x250 rounded corner tiles in Natural with Blue inserts
330x330 bullnose A tiles in Natural
Pool edge tiles in Basalto
"We're beyond happy with the product and the service. You would use Middle Earth Tiles again if the occasion allowed itself!" - Jane Swinburne